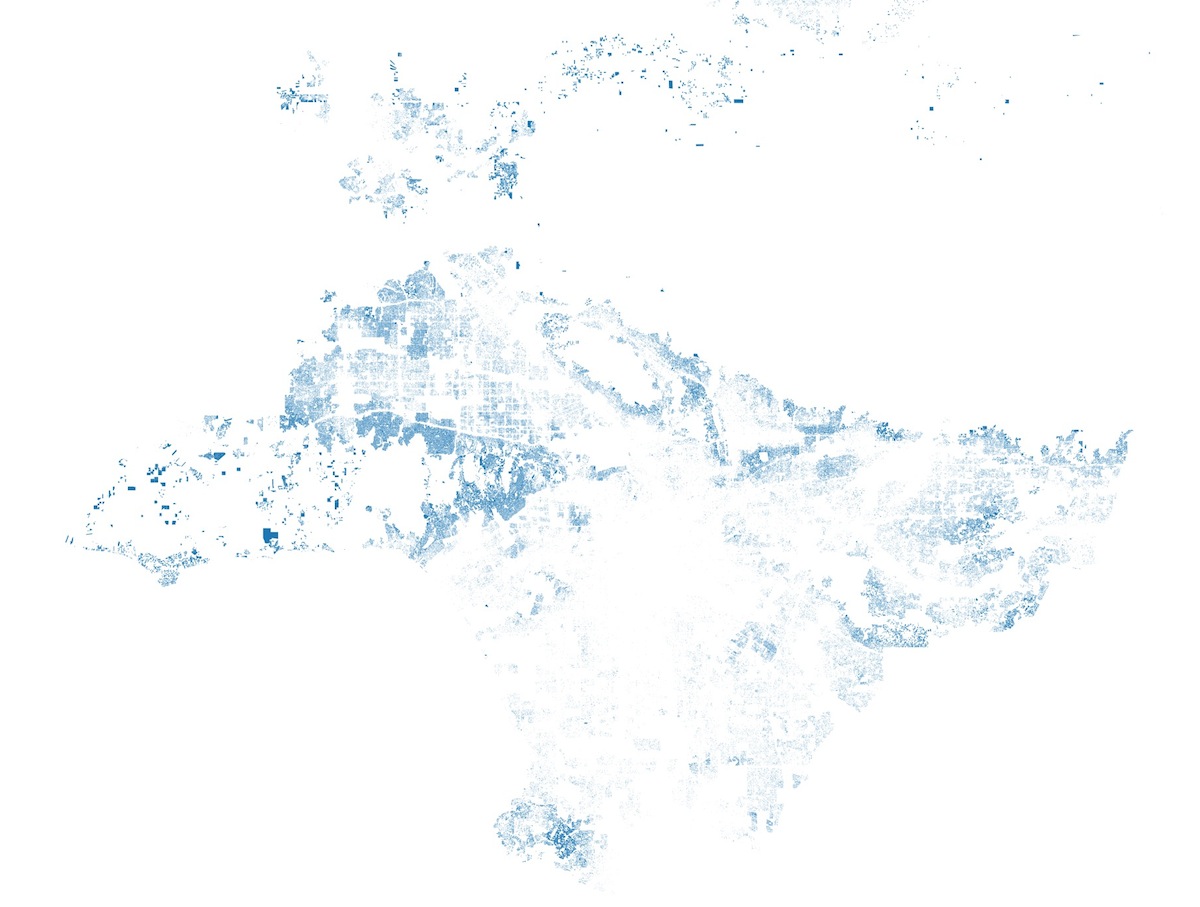 Diving into L.A.'s pools
Single family homes in LA with pools. Click to open the full map
A while back, I remember reading a Bob Pool story in the L.A. Times about researchers who used satellite imagery to spot all of the pools in the L.A. County basin. They totaled up just over 43,000, but left out large swaths of the county by focusing solely on one part of town.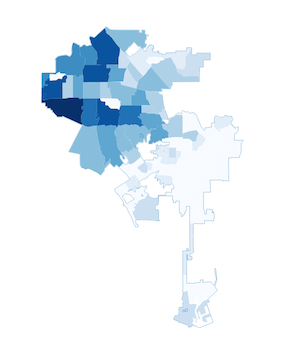 Number of pools by L.A. City neighborhood
That project came to mind again when I was browsing the L.A. County Assessor's data and noticed a flag indicating the presence of a pool. A little more research shows that there's a use code specifically for a single family home with a pool.
First off: there are a lot more than 43,000 pools. Counting up all of the pools in the county, there are just over 250,000. And most of them, 96%, are in single-family homes. However, only about 18% of homes in L.A. have a pool.
When you filter down to those places, you start to see a pattern emerge. For example, there are very few residential pools in the inner parts of the city. They're concentrated in the hills and the San Fernando Valley.
In the rest of the county, they're in the suburbs, the mountains and independent cities like Beverly Hills and Santa Clarita.
The heaviest concentrations, places where more than half of homes come with their own oasis, are in the county's wealthy enclaves.
| Neighborhood | Homes with pools | Med. income |
| --- | --- | --- |
| Hidden Hills | 87% | $203,199 |
| Bel Air | 66% | $207,938 |
| Rolling Hills | 61% | $184,777 |
| Beverly Hills | 60% | $96,312 |
| Bradbury | 60% | $123,773 |
These hillside homes are beautiful, multi-million dollar affairs. They're the homes of CEOs and Real Housewives, and their neighborhoods are filled with shimmering blue pools of all shapes and sizes.
But if you take the 405 to the 105 to the 110, there are neighborhoods like Vermont Vista where you can go for blocks without seeing a private pool. Few homes in these poorer city neighborhoods have pools, and a good portion are un-filled. Some of the ones that are filled, are filled with refuse.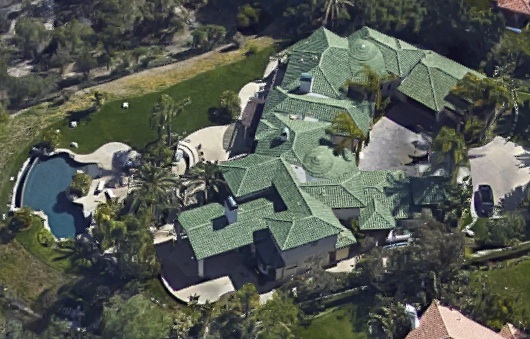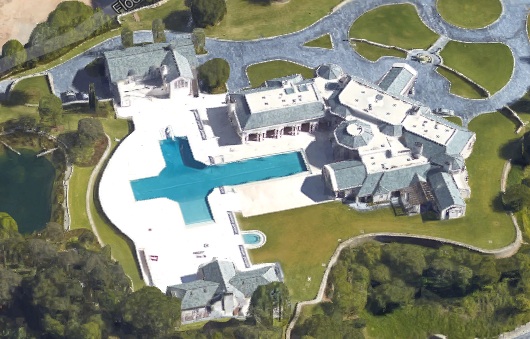 Top: A house in Hidden Hills (left) and Bradbury (right). Bottom: A lonely pool in Vermont Vista. Credit: Google Maps.
In Southern California, both space and water are increasingly rare. Rates of pool ownership then serves as a decent proxy for neighborhood wealth, though a pool in Calabasas is far different from one in Compton.
One of the fascinating parts of all of this is in seeing the difference beetween the kinds of homes and pools. To that end, I built a map that lets you randomly roam from pool to pool. Check it out below, or open up the Los Angeles pools map🚀 in full screen.